SCAFFOLDING SAFETY
March 27, 2018
When you've got a job to do in places that are hard to reach, nothing is more useful than a scaffold. However, it also implies that your work will unfold at greater heights than other jobs, which means that specifically targeted safety procedures are necessary.
Safety Procedures are necessary when working on scaffolding for those hard to reach areas. You much take proper precautions.
HOW TO STAY SAFE
Here are the most common hazards associated with scaffolds include:
Falls
Collapse scaffolding
Being struck by falling tools, work materials, or debris,
Electrocution due to proximity of the scaffold to overhead power lines.
Here are 3 steps to stay safe.
WEAR PERSONAL PROTECTIVE EQUIPMENT
ASSEMBLE AND DISMANTLE PROPERLY
INSPECT THE STRUCTURE PERIODICALLY AND BEFORE EACH WORK SHIFT
OSHA requires for scaffolds and scaffolds components to be inspected for visible defects by a competent person before each work shift. Each inspection needs to be followed by a detailed report of any risks or defects, as well as the corrective measures that were taken to correct the hazards. This will come particularly in handy when identifying recurring problems of any kind and promptly finding an effective and functional fix for them.
stay Safe with these tips
Assemble and dissemble scaffolding properly
Wear the needed PPE
Inspect scaffolding before each use
Keep detailed inspection reports
OSHA Penalties Set To Skyrocket: Are You In Compliance?
April 4, 2018
Effective August 1, the Department of Labor issued a new rule implementing significantly higher penalties upon employers for Occupational Safety and Health Act violations. The new penalty rates will be effective for any violations which occurred after November 2, 2015.
For Example, a willful or repeated violation citation jumps from a $70,000 maximum fine to $124,709. The odd numbers come from the fact that the changes are implemented pursuant to the Inflation Adjustment Act of 2015, which required the DOL and other federal agencies to increase their penalties based on inflation since the penalties were last upped. Subsequently, the Inflation Adjustment Act requires annual adjustments for inflation based on the consumer price index  So, be sure to check that all of your workplace posters, your safety manuals, and training logs are current. OSHA will fine you for inadequate postings for such laws as Title VII, FMLA, Wage & Hour, Workers' Compensation, etc.
Although this change does not later an employer's obligation to comply with OSHA Health Act, it does raise the stakes for those who fail to comply. Even employers with spotless safety records could now face fines in the six figures for first offense with OSHA.
All employers should consider seeking out consultants like Safety Compliance Institute to provide workplace safety evaluations by trained consultants, who can identify safety hazards, which if corrected can control workplace injuries. This may allow the employer to be removed from OSHA's programed inspection list
At a time of our government deficit, any extra money they can squeeze out of your company they will try. Don't let them win. Make sure you are in compliance.
Scissor lifts! And no I'm not talking about the ab-busting exercise at the gym that wouldn't hurt for me to do to counteract the beer I drink on the weekends. I'm talking about the elevated work platform that received it's name "scissor lift" due to the cross design of the steel beams used to increase heights of worker's who need to complete job tasks that are like, high up.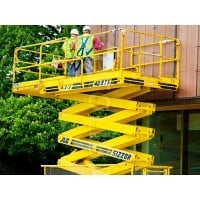 If it's a more technical term you're looking for, OSHA defines a scissor lift as "mobile supported scaffold work platforms used to safely move workers vertically and to different locations in a variety of industries including construction, retail, entertainment and manufacturing. Scissor lifts are different from aerial lifts because the lifting mechanism moves the work platform straight up and down using crossed beams functioning in a scissor-like fashion."
Being that scissor lifts are heavy pieces of industrial equipment that place workers at heights that could be potentially dangerous, it's important that worker's are fully prepared to be lifted up toward God without having to meet Him face to face. Here's how to safely work on the elevated platforms, scissor lifts.
1. Employers, do your part.
The first thing that must be done before employees even lay their eyes on a scissor lift, is having employers ensure that the rope descent system and the anchorage complies 1910.27(b)(1)(i) which also involves the owner of the building itself. Both the employer and the building owner are required to ensure (in writing) that "the building owner has identified, tested, certified, and maintained each anchorage so it is capable of supporting at least 5,000 pounds (268 kg), in any direction, for each employee attached." Once that is received, the employer can then take the next steps in rope descent, to comply with 1910.27(b)(2).
2. Fall Protection, DUH!
If you send your workers to work at heights without providing adequate fall protection training and equipment, you're probably a jerk. Falls are one of the leading causes of injuries and deaths in construction, hence why it's listed as number one in Construction's "Fatal Four", or the four most common causes of death in construction. Don't be a jerk, comply with 1910.29(a) and ensure that your employees are properly equipped with the knowledge, training, and equipment that's necessary to keep them safe. The rest is up to them, which leads up to our next point.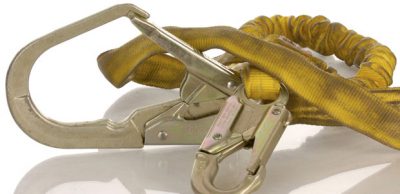 3. Employee Responsibility
Once an employee is trained on how to safely work on an elevated work platform per OSHA standard 1926.454, it becomes the employee's responsibility to hold their safety in their own regards. Employers can help do this by creating a safety culture that encourages safe behavior and punishes unsafe behavior (if an injury doesn't punish them first).
Additional Scissor List Safety Tips:
Identify all hazards prior to scissor lift use.
Inspect the scissor lift for full functionality and proper operation.
Never use a faulty scissor lift.
Only allow trained employees on a scissor lift.
Provide adequate fall protection equipment and PPE (covered this already, but doing it again. Don't be a jerk.)
Use scissor lifts according to manufacturer's instructions.
Properly maintain the equipment.
Interested in learning more? Try this free OSHA eTool. (which, incidentally, is where I got most of my information.)
We also have some free Scissor Lift safety training materials for ya, here you go!
As always, stay safe!! Off to the gym I go! (but maybe a beer first).
Sources:
https://www.atlantictraining.com/blog/scissor-lifts-not-exercise-gym/
https://www.osha.gov/SLTC/etools/scaffolding/scissorlifts/index.html
https://www.osha.gov/pls/oshaweb/owadisp.show_document?p_table=STANDARDS&p_id=9719
https://www.osha.gov/pls/oshaweb/owadisp.show_document?p_table=STANDARDS&p_id=9720#1910.28(b)(12)
---
Cal/OSHA Reminds Employers to Protect Outdoor Workers from Heat Illness
 April 13, 2018
Fresno—Temperatures at outdoor worksites across California continue to elevate as the weather warms up. Cal/OSHA today participated in a news conference, reminding employers to plan for and prevent heat illness in order to protect outdoor workers from heat-related illness and death.
An essential component of Cal/OSHA's heat illness prevention model includes annual trainings statewide in both English and Spanish. Today, Nisei Farmers League and nine other agricultural employers co-sponsored training sessions in Easton in both languages. This co-sponsored training has been held every year since 2008 to highlight the need to protect outdoor workers from heat illness and the requirements under California's heat illness prevention standard.
"It is never too early for employers with outdoor workers to review their heat illness prevention procedures and ensure their training is effective," said Cal/OSHA Chief Juliann Sum. "Cal/OSHA continues its outreach and training efforts, as well as enforcement at outdoor worksites, to ensure compliance with the standard."
Heat illness is a serious hazard for people who work outdoors. Cal/OSHA's prevention approach includes targeted enforcement inspections at outdoor worksites in industries such as agriculture, landscaping and construction during the heat season. These inspections ensure compliance with the heat illness prevention standard and the injury and illness prevention standard, which require employers to take the following basic precautions:
1.    Train all employees and supervisors on heat illness prevention.
2.    Provide enough fresh water so that each employee can drink at least 1 quart per hour, or four 8-ounce glasses of water per hour, and encourage them to do so.
3.    Provide access to shade and encourage employees to take a cool‐down rest in the shade for at least 5 minutes. They should not wait until they feel sick to cool down. Shade structures must be in place upon request or when temperatures exceed 80 degrees Fahrenheit.
4.    Closely observe all employees during a heat wave and any employee newly assigned to a high heat area. Lighter work, frequent breaks or shorter hours will help employees who have not been working in high temperatures adapt to the new conditions.
5.    Develop and implement written procedures for complying with the Cal/OSHA heat illness prevention standard, including plans on how to handle medical emergencies and steps to take if someone shows signs or symptoms of heat illness.
The most frequent heat-related violation that Cal/OSHA cites during enforcement inspections is for failure to have an effective written heat illness prevention plan specific to the worksite. Serious heat-related violations are often related to inadequate access to water and shade, and to a lack of supervisor and employee training.
To remain in compliance with the standard, Cal/OSHA encourages employers and supervisors to learn more about the standard, which was amended in 2015. Please refer to the Cal/OSHA guidance on the new requirements and the Heat Illness Prevention Enforcement Q&A for more information on the updates.
Additional information about heat illness prevention, including details on upcoming training sessions throughout the state are posted on Cal/OSHA's Heat Illness Prevention page. Cal/OSHA also has extensive multilingual materials for employers, workers and trainers on its Water. Rest. Shade. public awareness campaign website.
---
---
JULY 1, 2018 DEADLINE: Electronic Submission of Injury and Illness Records to OSHA        
June 1st, 2018 
All manufacturers with 11 or more employees, including part-time and seasonal employees, must electronically submit information from their 2017 OSHA Form 300A by July 1, 2018. OSHA is not accepting Form 300 and 301 information at this time. Beginning in 2019, you must submit your injury and illness information by March 2..
Please follow this link and instruction to get started
https://www.osha.gov/injuryreporting/ita/home
General Industry and Maritime Silica Standard Effective 

June 23
June 5th, 2018
General industry and maritime employers must comply with OSHA's silica standard by June 23, except for phase-in dates for medical surveillance and for engineering controls in the oil and gas industry. Visit the silica webpage for guidance on complying with the standard, as well as information on silica sampling and analysis, health effects of silica exposure, and answers to frequently asked questions.