June 2021
Be Prepared
OSHA can show up anytime to your business. It could be that they were just in the areas, or someone complained. Whatever the reason is, your company should be ready. This means:
Conduct monthly inspection
Train all your employees
Have a safety manual and a COVID manual for your business
Conduct safety meetings
If you need any of the following assistance, please call Safety Compliance Institute at: (855) OSHA-MAN California Leads the Nation on Worker SafetyCalifornia administers the largest state OSHA plan in the nation and consistently exceeds its inspection goals to protect millions of workers each year. Here is the 
latest data from the 2019 federal fiscal year
 on how Cal/OSHA compares:
Cal/OSHA conducted the most inspections in the nation (7,571 inspections exceeds the goal of 7,540).
Cal/OSHA cited 18,896 hazards and created safer working conditions for at least 8.4 million employees.
Enforcement and outreach activities contributed to a 2018 fatality rate lower than the national rate (2.3 versus the national rate of 3.5 per 100,000 full-time workers).
Cal/OSHA is issuing citations to employers for violations related to protecting workers from COVID-19. All of the citations are available on 
our webpage
. View 
COVID-19 outbreak data
 that is collected and reported by the California Department of Public Health as required by AB 685. ______________________________________________________________________________
December 2020
DEALING WITH THE COLD IN THE WORKPLACE:
We are officially in the Winter Season and the cold weather is here.  I know most of the time we talk about Heat Stress but Cold Stress is a thing and should be talked about and implemented in the workplace. Cold Stress can lead to fatalities in the workplace. Thankfully, the Occupational Safety and Health Administration or 
OSHA
 has laid out guidelines to ensure the safety of employees exposed to extreme conditions. What is considered cold?
Wetness or Dampness: If a person gets wet, the body loses heat when it evaporates the water in the surface of the skin. Coupled with cold weather, dampness can be near-fatal.
Wind Chill: Similar to dampness, wind chill can exacerbate cold conditions. High wind speed in combination with low temperatures can make work conditions dangerous.
Employee's Current Health Condition: Certain illnesses like hypertension and diabetes can act up during extreme climate conditions.
Employee's Preparedness: Layers can help minimize the effect of extreme cold. Wearing the proper clothing and protective gear can affect how much the weather can affect an individual.
When exposed to cold weather, the body uses its energy to keep internal temperatures stable. However, if extreme conditions do not change, the body would try to protect internal organs and redirect blood flow to the chest cavity — leaving extremities like the arms and legs left to the cold. Shivering also occurs as the body tries to increase heat production. Symptoms of cold stress
Hypothermia
Frostbite
trench foot.
Hypothermia Hypothermia occurs when the body experiences a steep drop in temperature. This condition often occurs when a person is exposed to cold weather conditions he or she is not prepared for. While mostly associated during the winter months, there are actually more incidents of hypothermia during spring and fall. A person is considered suffering from hypothermia when their internal temperature drops to anywhere <95°F. In normal conditions, the heart and the lungs produce most of the body's heat. When a person experiences cold stress, the body cools down and these organs produce less heat. This protective shut down is designed in order to conserve body heat and protect the brain. At this point, the body would continue to shiver in order to increase body heat. However, over time, shivering would cease as the body's regulation system begins to fail. Aside from shivering, symptoms of hypothermia include shallow breathing, confusion, exhaustion, slurred speech, coordination problems, and a weak pulse. Frostbite When the body is experiencing cold temperatures, it tries to protect internal organs by directing blood flow to the chest cavity. While it keeps the body from expiring, the extremities are collateral damage, often because of frostbite. Frostbite is a condition when the body tissue, usually in the fingers and toes, freezes. This condition can be temporary and certain body parts can be rewarmed. However, if deep tissue dies, the amputation of the affected part might be necessary. Symptoms of frostbite can include pain in the affected area eventually numbing as the cold sets in deeper, discoloration, and blistering especially in severe cases. Trench Foot Trench Foot was first identified during World War I when soldiers from both sides of the war were exposed to cold, wet conditions that prevented them from keeping their feet dry. While the condition seems innocuous, Trench Foot claimed the lives of over 70,000 soldiers during wartime. This condition occurs when the feet get wet and it doesn't get dried properly. Trench Foot is different from frostbite since it isn't necessarily the temperature that worsens the affliction. Wearing wet socks for long periods of time, however, does. Symptoms include redness, the appearance of blisters, blotchy skin, and dried, cracking skin. In extreme cases, Trench Foot can result in permanent nerve damage and eventually amputation. PROTECT YOURSELF FROM COLD STRESS? OSHA's Cold Stress safety guidelines have laid out several measures employees can take before working in extreme conditions.
Review Workplace Training on Cold Stress
Inspect Engineering Safety Precautions
Wear Protective Clothing
Adjust your Work Habits
WHAT CAN YOU DO IN AN EMERGENCY? In a cold stress emergency, the first step is to call for emergency medical assistance. While waiting, take off the victim's wet or damp clothing and replace it with dry clothes. It's important to keep the victim warm by using blankets and other thick materials. If the victim is conscious, give them warm, decaffeinated, sweetened drinks. In cases of frostbite, prevent rubbing or walking on the area(s) afflicted. Cold stress is real and can be fatal. Take safety precautions and talk to your employees.
_______________________________________
Top 10 Most Frequently Cited Standards
April 22, 2019
The following is a list of the top 10 most frequently cited standards following inspections of worksites by federal OSHA. OSHA publishes this list to alert employers about these commonly cited standards so they can take steps to find and fix recognized hazards addressed in these and other standards before OSHA shows up. Far too many preventable injuries and illnesses occur in the workplace.
______________________________________________________________________________
Maximum OSHA Fines Increased in 2019! Are you Safe?

March 2019 The Maximum OSHA Penalty is Increasing Again in 2019 Until four years ago, OSHA had not raised their penalty amounts since 1990. Now, with the Inflation Adjustment Act, OSHA is required to annually adjust penalty amounts by January 15th. Fines increased by approximately 80% on August 1, 2016 and are adjusted annually moving forward.  This year the penalty increase adjusted on January 23, 2019 due to the government shut downs. The Best Way to Avoid OSHA Fines is a Proactive Workplace! Be proactive when it comes to your company's safety and health program.

____________________________________________________________________________

CALIFORNIA'S NEW EMERGENCY REGULATION REQUIRING ELECTRONIC SUBMISSION OF 300A LOGS

October 29th, 2018

In a notice dated October 18, 2018, Cal/OSHA notified the public of its intent to adopt an emergency regulation requiring California's employers to electronically submit their Cal/OSHA 300A annual summaries to a website maintained by the Federal Secretary of Labor.  The stated purpose of the emergency regulation is to conform Cal/OSHA recordkeeping regulation to Fed/OSHA's parallel regulation. WHO IS REQUIRED TO ELECTRONICALLY SUBMIT 300A FORMS? Employers who were previously exempt from completing Cal/OSHA 300 Logs under Title 8, CCR § 14300.2 (when their North American Industry Classification System ["NAICS"] Code referenced is in Table 1 of Appendix A), are still exempt. Employers with 250 or more employees at any time during the calendar year (who are not exempt) are covered by the emergency regulation. Employers with 20 through 249 employees at any time during the calendar year (who are not exempt) are covered by the emergency regulation if their NAICS Code appears in the newly-adopted Appendix H.  Most employers are covered, including those in construction, manufacturing, agriculture, utilities, forestry, grocery stores, specialty food stores, waste treatment and disposal, urban transit systems, etc. (this is not a comprehensive list of the covered NAICS Codes) Any employer (even those who are otherwise exempt) may be required to electronically submit 300A forms upon a specific request by a representative of OSHA. WHEN MUST 300A FORMS BE SUBMITTED? Cal/OSHA 300A forms for the 2017 calendar year must be electronically submitted by no later than December 31, 2018. Cal/OSHA 300A forms for the 2018 calendar year must be electronically submitted by no later than March 2, 2019 (future submissions will be due on March 2 of each subsequent year following the year addressed by the 300A form). ON WHAT WEBSITE MUST THE 300A FORMS BE ELECTRONICALLY SUBMITTED? Stand-by for more details.  The emergency regulation states: "OSHA will provide a secure Web site for the electronic submission of information."  The regulation, however, does not provide any web address.  The following address seems to be up and running on the Federal Department of Labor's website: https://www.osha.gov/injuryreporting/ita/.  If necessary, this address will be updated when more information becomes available
Safety Summit Held to Reduce Trenching Fatalities
October 17, 2018
Every year, more than 50 workers die in trench-related incidents and thousands more are injured. OSHA and the North American Excavation Shoring Association recently hosted the Colorado Trench Safety Summit to raise awareness of hazards and best practices. More than 500 attendees participated in training and demonstrations, including a mock trench rescue by local first responders. OSHA also shared compliance assistance resources to help keep workers safe from trenching hazards.
New Proposition 65 Warning Signs
August 27, 2018
What is Proposition 65?
In 1986, California voters approved Proposition 65, an initiative to address their growing concerns about 
exposure
 to toxic chemicals. That initiative is officially known as the Safe Drinking Water and Toxic Enforcement Act of 1986. The law requires California to publish a list of chemicals known to cause 
cancer
 or 
reproductive toxicity
, and for businesses with 10 or more employees to provide warnings when they knowingly and intentionally cause significant exposures to listed chemicals. This list currently includes more than 850 chemicals. Proposition 65 does not ban or restrict the sale of chemicals on the list. The warnings are intended to help Californians make informed decisions about their exposures to these chemicals from the products they use and the places they go. The Office of Environmental Health Hazard Assessment (OEHHA) administers the Proposition 65 program.
What Are the Most Significant Changes to the Proposition 65 Warnings For Consumer Products?
Since the original warning requirements took effect in 1988, most Proposition 65 warnings simply state that a chemical is present that causes cancer or 
reproductive harm
, but they do not identify the chemical or provide specific information about how a person may be exposed or ways to reduce or eliminate exposure to it. New OEHHA regulations, adopted in August 2016 and that will take full effect in August 2018, change the safe harbor warnings which are deemed to comply with the law in several important ways. For example, the new warnings for consumer products will say the product "can expose you to" a Proposition 65 chemical rather than saying the product "contains" the chemical. They will also include:
The name of at least one listed chemical that prompted the warning
The Internet address for OEHHA's new Proposition 65 warnings website, www.P65Warnings.ca.gov, which includes additional information on the health effects of listed chemicals and ways to reduce or eliminate exposure to them
A triangular yellow warning symbol  on most warnings
Personal Protective Equipment
August 22, 2018
What is personal protective equipment?
Personal protective equipment, commonly referred to as "PPE", is equipment worn to minimize exposure to hazards that cause serious workplace injuries and illnesses. These injuries and illnesses may result from contact with chemical, radiological, physical, electrical, mechanical, or other workplace hazards. Personal protective equipment may include items such as gloves, safety glasses and shoes, earplugs or muffs, hard hats, respirators, or coveralls, vests and full body suits.
What can be done to ensure the proper use of personal protective equipment?
All personal protective equipment should be safely designed and constructed and should be maintained in a clean and reliable fashion. It should fit comfortably, encouraging worker use. If the personal protective equipment does not fit properly, it can make the difference between being safely covered or dangerously exposed. When engineering, work practice, and administrative controls are not feasible or do not provide sufficient protection, employers must provide personal protective equipment to their workers and ensure its proper use. Employers are also required to train each worker required to use personal protective equipment to know:
When it is necessary
What kind is necessary
How to properly put it on, adjust, wear and take it off
The limitations of the equipment
Proper care, maintenance, useful life, and disposal of the equipment
If PPE is to be used, a PPE program should be implemented. This program should address the hazards present; the selection, maintenance, and use of PPE; the training of employees; and monitoring of the program to ensure its ongoing effectiveness.
SCAFFOLDING SAFETY
March 27, 2018
When you've got a job to do in places that are hard to reach, nothing is more useful than a scaffold. However, it also implies that your work will unfold at greater heights than other jobs, which means that specifically targeted safety procedures are necessary. Safety Procedures are necessary when working on scaffolding for those hard to reach areas. You much take proper precautions. HOW TO STAY SAFE Here are the most common hazards associated with scaffolds include:
Falls
Collapse scaffolding
Being struck by falling tools, work materials, or debris,
Electrocution due to proximity of the scaffold to overhead power lines.
Here are 3 steps to stay safe.
WEAR PERSONAL PROTECTIVE EQUIPMENT
ASSEMBLE AND DISMANTLE PROPERLY
INSPECT THE STRUCTURE PERIODICALLY AND BEFORE EACH WORK SHIFT
OSHA requires for scaffolds and scaffolds components to be inspected for visible defects by a competent person before each work shift. Each inspection needs to be followed by a detailed report of any risks or defects, as well as the corrective measures that were taken to correct the hazards. This will come particularly in handy when identifying recurring problems of any kind and promptly finding an effective and functional fix for them. stay Safe with these tips
Assemble and dissemble scaffolding properly
Wear the needed PPE
Inspect scaffolding before each use
Keep detailed inspection reports
OSHA Penalties Set To Skyrocket: Are You In Compliance?
April 4, 2018
Effective August 1, the Department of Labor issued a new rule implementing significantly higher penalties upon employers for Occupational Safety and Health Act violations. The new penalty rates will be effective for any violations which occurred after November 2, 2015. For Example, a willful or repeated violation citation jumps from a $70,000 maximum fine to $124,709. The odd numbers come from the fact that the changes are implemented pursuant to the Inflation Adjustment Act of 2015, which required the DOL and other federal agencies to increase their penalties based on inflation since the penalties were last upped. Subsequently, the Inflation Adjustment Act requires annual adjustments for inflation based on the consumer price index  So, be sure to check that all of your 
workplace posters,
your
safety manuals
, and training logs are current. OSHA will fine you for inadequate postings for such laws as Title VII, FMLA, Wage & Hour, Workers' Compensation, etc. Although this change does not later an employer's obligation to comply with OSHA Health Act, it does raise the stakes for those who fail to comply. Even employers with spotless safety records could now face fines in the six figures for first offense with OSHA. All employers should consider seeking out consultants like Safety Compliance Institute to provide workplace safety evaluations by trained consultants, who can identify safety hazards, which if corrected can control workplace injuries. This may allow the employer to be removed from OSHA's programed inspection list At a time of our government deficit, any extra money they can squeeze out of your company they will try. Don't let them win. Make sure you are in compliance.
Scissor lifts! And no I'm not talking about the ab-busting exercise at the gym that wouldn't hurt for me to do to counteract the beer I drink on the weekends. I'm talking about the elevated work platform that received it's name "scissor lift" due to the cross design of the steel beams used to increase heights of worker's who need to complete job tasks that are like, high up.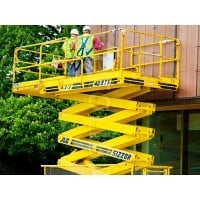 If it's a more technical term you're looking for, 
OSHA
 defines a scissor lift as "mobile supported scaffold work platforms used to safely move workers vertically and to different locations in a variety of industries including construction, retail, entertainment and manufacturing. Scissor lifts are different from aerial lifts because the lifting mechanism moves the work platform straight up and down using crossed beams functioning in a scissor-like fashion." Being that scissor lifts are heavy pieces of industrial equipment that place workers at heights that could be potentially dangerous, it's important that worker's are fully prepared to be lifted up toward God without having to meet Him face to face. Here's how to safely work on the elevated platforms, scissor lifts.
1. Employers, do your part.
The first thing that must be done before employees even lay their eyes on a scissor lift, is having employers ensure that the rope descent system and the anchorage complies 
1910.27(b)(1)(i)
 which also involves the owner of the building itself. Both the employer and the building owner are required to ensure (in writing) that "the building owner has identified, tested, certified, and maintained each anchorage so it is capable of supporting at least 5,000 pounds (268 kg), in any direction, for each employee attached." Once that is received, the employer can then take the next steps in rope descent, to comply with 
1910.27(b)(2)
.
2. Fall Protection, DUH!
If you send your workers to work at heights without providing adequate fall protection 
training
 and equipment, you're probably a jerk. Falls are one of the leading causes of injuries and deaths in construction, hence why it's listed as number one in 
Construction's "Fatal Four"
, or the four most common causes of death in construction. Don't be a jerk, comply with 
1910.29(a)
 and ensure that your employees are properly equipped with the knowledge, training, and equipment that's necessary to keep them safe. The rest is up to them, which leads up to our next point.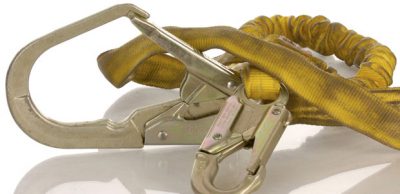 3. Employee Responsibility
Once an employee is trained on how to safely work on an elevated work platform per OSHA standard 
1926.454
, it becomes the employee's responsibility to hold their safety in their own regards. Employers can help do this by creating a safety culture that encourages safe behavior and punishes unsafe behavior (if an injury doesn't punish them first).
Additional Scissor List Safety Tips:
Identify all hazards prior to scissor lift use.
Inspect the scissor lift for full functionality and proper operation.
Never use a faulty scissor lift.
Only allow trained employees on a scissor lift.
Provide adequate fall protection equipment and PPE (covered this already, but doing it again. Don't be a jerk.)
Use scissor lifts according to manufacturer's instructions.
Properly maintain the equipment.
Interested in learning more? Try this free OSHA eTool. (which, incidentally, is where I got most of my information.)
We also have some free Scissor Lift safety training materials for ya, 
here you go!
As always, stay safe!! Off to the gym I go! (but maybe a beer first).
Sources:
https://www.atlantictraining.com/blog/scissor-lifts-not-exercise-gym/ https://www.osha.gov/SLTC/etools/scaffolding/scissorlifts/index.html https://www.osha.gov/pls/oshaweb/owadisp.show_document?p_table=STANDARDS&p_id=9719 https://www.osha.gov/pls/oshaweb/owadisp.show_document?p_table=STANDARDS&p_id=9720#1910.28(b)(12)
---
Cal/OSHA Reminds Employers to Protect Outdoor Workers from Heat Illness

 April 13, 2018

Fresno—Temperatures at outdoor worksites across California continue to elevate as the weather warms up. Cal/OSHA today participated in a news conference, reminding employers to plan for and prevent heat illness in order to protect outdoor workers from heat-related illness and death. An essential component of Cal/OSHA's heat illness prevention model includes annual trainings statewide in both English and Spanish. Today, Nisei Farmers League and nine other agricultural employers co-sponsored training sessions in Easton in both languages. This co-sponsored training has been held every year since 2008 to highlight the need to protect outdoor workers from heat illness and the requirements under California's heat illness prevention standard. "It is never too early for employers with outdoor workers to review their heat illness prevention procedures and ensure their training is effective," said Cal/OSHA Chief Juliann Sum. "Cal/OSHA continues its outreach and training efforts, as well as enforcement at outdoor worksites, to ensure compliance with the standard." Heat illness is a serious hazard for people who work outdoors. Cal/OSHA's prevention approach includes targeted enforcement inspections at outdoor worksites in industries such as agriculture, landscaping and construction during the heat season. These inspections ensure compliance with the heat illness prevention standard and the injury and illness prevention standard, which require employers to take the following basic precautions: 1.    Train all employees and supervisors on heat illness prevention. 2.    Provide enough fresh water so that each employee can drink at least 1 quart per hour, or four 8-ounce glasses of water per hour, and encourage them to do so. 3.    Provide access to shade and encourage employees to take a cool‐down rest in the shade for at least 5 minutes. They should not wait until they feel sick to cool down. Shade structures must be in place upon request or when temperatures exceed 80 degrees Fahrenheit. 4.    Closely observe all employees during a heat wave and any employee newly assigned to a high heat area. Lighter work, frequent breaks or shorter hours will help employees who have not been working in high temperatures adapt to the new conditions. 5.    Develop and implement written procedures for complying with the Cal/OSHA heat illness prevention standard, including plans on how to handle medical emergencies and steps to take if someone shows signs or symptoms of heat illness. The most frequent heat-related violation that Cal/OSHA cites during enforcement inspections is for failure to have an effective written heat illness prevention plan specific to the worksite. Serious heat-related violations are often related to inadequate access to water and shade, and to a lack of supervisor and employee training. To remain in compliance with the standard, Cal/OSHA encourages employers and supervisors to learn more about the standard, which was amended in 2015. Please refer to the Cal/OSHA guidance on the new requirements and the Heat Illness Prevention Enforcement Q&A for more information on the updates. Additional information about heat illness prevention, including details on upcoming training sessions throughout the state are posted on Cal/OSHA's Heat Illness Prevention page. Cal/OSHA also has extensive multilingual materials for employers, workers and trainers on its Water. Rest. Shade. public awareness campaign website.
---
---
JULY 1, 2018 DEADLINE: Electronic Submission of Injury and Illness Records to OSHA        
June 1st, 2018 
All manufacturers with 11 or more employees, including part-time and seasonal employees, must electronically submit information from their 2017 OSHA Form 300A by July 1, 2018. OSHA is not accepting Form 300 and 301 information at this time. Beginning in 2019, you must submit your injury and illness information by March 2
..
Please follow this link and instruction to get started
https://www.osha.gov/injuryreporting/ita/home
General Industry and Maritime Silica Standard Effective 

June 23
June 5th, 2018
General industry and maritime employers must comply with OSHA's 
silica standard
 by June 23, except for phase-in dates for medical surveillance and for engineering controls in the oil and gas industry. Visit the 
silica webpage
 for guidance on complying with the standard, as well as information on silica sampling and analysis, health effects of silica exposure, and answers to frequently asked questions. ____________________________________________________________________________________________________________________________________________________________________________________________ ____________________________________________________________________________________________________________________________________________________________________________________________